Add Front_Range_Anglers@mail.vresp.com to your
address book to ensure our emails reach your inbox.
News Magazine ~ October 2009
Dedicated to bringing people and fish together
Click here for a free subscription or to
read editions dating dack to 2003
Bill Leuchten, Owner ~ Rob Kolanda, Area Manager ~ Jon Spiegel, Area Manager ~ Jay Zimmerman, Area Manager ~ Russ Miller, Webmaster ~ Paul Prentiss, Customer Communications,
 Larry Jurgens, Instruction Services ~ Patrick Knackendoffel Guide/Staff
IN THIS EDITION
FISH TALES~REEL NEWS ~  2010 GEAR REVIEW ~ DOWNSTREAM ~ ANGLERS THAT CARE ~TIPS & TECHNIQUES ~ FLY TYING ~ FORWARD CAST ~ FIELD TRIAL ~ THE DEEP END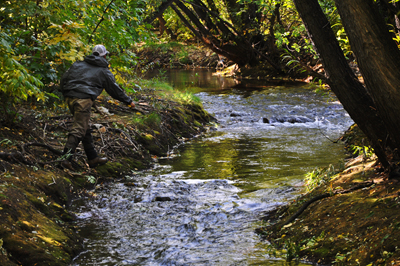 Hi all:
There are days when many of us fly fishermen wish we were the only ones on the stream. The thought of fewer fishermen might sound tantalizing, but the fact is, the more people that fish, the more people there are who are interested in preserving cold water fisheries. None of us likes a stream that is jam packed with anglers, but it's important to recognize what the power of numbers can do if we stick together.
Here in our hometown of Boulder, CO, the local Trout Unlimited chapter, Boulder Flycasters, raised over $200,000 to improve and preserve our local water.  It was an incredible job done by a grassroots conservation organization that would not give up. This is powerful. We should look at the number of fly fishermen around us as a wall of preservation that will ensure good fishing for years to come. Imagine if some government, local or federal, wanted to divert or tamper with a piece of trout stream (Twin Forks for example). They would have so many fishermen protesting that it would not be worth it. I recommend that you protest bad policy when you can, and certainly support organizations that do this work!  Fishing has been outstanding on our local waters this fall by all accounts. It really shows how a healthy water supply makes for an abundant fish population and great days for the fisherman.  
If you're thinking about getting your kid into fly fishing, here's a little video that shows some tips.  Hope you enjoy it - and hope we see you soon,
Bill
---
Win a C&F 10-row Fly Box
Click here to take the quiz
---
 FISH TALES
You can tell that Andy Coedova is pretty happy with his first Redfish taken at Laguna Madre near South Padre Island using an 8-weight Redington matched with an SA saltwater line.
Morten Agnar Hagen sent us these shots of Andreas Möller with Sea Trout taken from River Em in Sweden this year.  Andreas is with Guideline in Sweden and has extensive Scandinavian fly fishing experience.

KEEP ON SENDING US YOUR PHOTOS & STORIES
click here to submit a photo

Russ Miller of Front Range Anglers made a productive stop on the Taylor River this summer.   
TK Conner of Boulder, CO nailed this wiper on a Nebraska outing in September
  Pictured above is Terry Escamilla of Boulder, CO with a very nice Rainbow taken on the Kenai River in September of this year.  Below is Terry's brother-in-law, Ken Sheffield of Anchorage, AK with a 30-incher held by guide Dave Wilson (208-659-3483).  Terry tells me that Ken and his friends have taken bows up to 38-inches in the late fall!
 Special Fall Photo Essay
A collection of some highlights from this Fall, see the show, click here.
Photos by: R. Miller
 REEL NEWS
Within a two week window during September two world record trout were landed.  On September 5, Canadian angler Sean Konrad obliterated the IGFA all-tackle world rainbow record with a 48-pound rainbow (42 inches long with a 32-inch girth) out of Saskatchewan's Lake Diefenbaker.  This catch bested the previous record held by his twin brother.  Then on September 9, 2009 Tom Healey, a retired construction manager, caught a 41-pound, 7-ounce German Brown on Michigan's Manistee River.  Healey's fish surpasses the standing all-tackle world record of 40 pounds, 4 ounces caught in Arkansas' Little Red River in 1992.  
What to expect fromn ESPN's new Fly Fishing Show
Here is a clip of the video that won the The Drake magazine's Fly Fishing Video Award competition during the Fly Fishing Retailer Show in Denver.
Here is an outstanding short film featuring Brian Okeefe...lots of fun with incredible video photography by his partner Todd Moen
Following last year's successful movie, Drift, Confluence Films, has finished production on their 2010, Rise.  It includes seven unique segments shot around the world, including such locations as Venezuela, Idaho's Henry's Fork River, the Florida Keys, Argentina, New Orleans, and the Katmai Region of Alaska. The new movie includes anglers Rene Harrop, Capt. Bruce Chard, Millie Paini, Tom Bie, Capt. Alex Griffin, Rance Rathie, Ron Sorensen, Mike Lawson, Travis Smith, Capt. Brian Carter, Jason Jagger, Marty Reid, and several others.  It will be available in November.  Click here to reserve a copy of this DVD.
The show is hosted by Chris Travis along with the foremost fishing guides throughout the world.  Each episode will showcase nature, adventure, and the conservation efforts being done to help protect these beautiful places, as well as offer tips on how to catch more fish.
 2010 GEAR REVIEW
Poking around the Fly Fishing Retailer Show for new gear is something I enjoy doing every year.  Here's what I found in September...click here
DOWN STREAM
What to look for in upcoming issues of the Front Range Anglers News Magazine
ANGLERS THAT CARE
 Greed Never takes a Holiday
 According to an article by David Stallings in the the fall issue of Trout Magazine, nearly every chamber of commerce and visitors bureau in the Arkansas River valley has endorsed the Over The River Project on the Arkansas. This project may produce some $195 Mil. in new visitor spending as a result of some 560,000 projected visitors.  David's comment to the artists was "Have they ever just sat along the banks of a wild river in solitude or times in-between? Can such things be improved?"
Here is part of the Christo Jeanne-Claude project description
"Fabric panels suspended horizontally clear of and high above the water level will follow the configuration and width of the changing course of the river, during a period of two consecutive weeks to be selected between mid-July and mid-August of any given year in the future, in 2013 at the earliest.
The Environmental Impact Statement (EIS) for Over The River is a lengthy process that began in the spring of 2009. The EIS is scheduled to take nearly two years to complete. The two year construction phase will begin when the EIS is finalized and the Bureau of Land Management, Department of the Interior, issues the Record of Decision.

Steel wire cables, anchored on the upper part of the riverbanks, will cross the river and serve as attachment for the fabric panels. The woven fabric panels, sewn in advance, with rows of grommets at the edges perpendicular to the river, will create shimmering waves of fabric, 8 to 25 feet (2.4 to 7.6 meters) above the water. The 5.9 mile (9,4 kilometer) long stream of successive fabric panels will be interrupted by bridges, rocks, trees, and bushes and for esthetic reasons, creating abundant flows of light.Wide clearance between the banks and the edges of the fabric panels will create a play of contrast allowing sunlight to illuminate the river on both sides. When seen from underneath, standing on the rocks, at the edge of the river, at water level or by rafting, the luminous and translucent fabric will highlight the contours of the clouds, the mountains and the vegetation."
 Just think how much fun it will be fishing under a tarp for 40 miles!

Fishing and Hunting contribute more than $190 billion annually to the US economy.
In the spring of this year I had a chance to meet and fish with Chris Coile on Sanibel Island in Florida.  In the summer months he's fishing the Atlantic out of Massachusetts and in the winter he chases Tarpon, Snook, and Redfish in Southwestern Florida every day.  He made a presentation to a local fishing club and gave me a copy.  His suggestions transcend a particular area and will be of value for any aspiring saltwater angler....Paul Prentiss


Nymph, Brush and Night Fishing for Trout
Joe Humphreys - Fly Fisher/Fly Tier/Writer/Instructor/TV Host


Joe Humphreys has taught fly fishing for over forty years and still loves to share his insights. Nymphing is one of his favorite approaches, and he'll be sharing a lifetime's worth of experience on this as well as fishing brush and night fishing on our next show.   More about Joe Humphreys...

Click Here to ask Joe Humphreys any questions you have about nymphing, brush or night fishing for trout.
---
Many experienced fly fishermen purchase their fly rods in the worst possible manner. They read the promotional materials created by the manufacturers and/or do their reasearch on the internet via forums, blogs and web sites...click here for more.
---
A Winter Project
This fly tying table project appeared in the Lumberjocks Wordworking Showcase. "The top cabinet is separate and lifts off the desk. The desk has a river which runs through it. I applied expoxy in layers to get the effect needed. No way to damage the top-even with a mallet. The drawer system is also felt lined. Woods used were spalted maple, cherry and walnut."
---
How Did Mike Get Started…."I sold my first painting at age 16 to the wife of world renowned artist/author Rudy De Reyna. While I have always been involved in art in some way I have also been and done many other things which I feel helped form my art. My professions have run from ditch digger to art director, victorian restoration painter to nightclub owner, sign carver to commercial fisherman and many more in between. I've also served my country in two branches of the military, jumped from a perfectly good plane and bungeed from a bridge. I'll run barefoot through the snow at times because I like the way it feels, and have climbed mountains in the dark to watch the sunrise. However the one constant in all the things I do and have done is that I can never stop creating and like a magnet I'm always drawn back to art."
Mike recently started a Bragging Rights  program where your very special photos are turned into a piece of unique artwork.  Not only do you get something very special a portion of the proceeds go to the Adaptive Fly Fishing Institute.
Mike creates these new original paintings with digital brushes that are custom replicas of brushes he uses in the studio. These new paintings are created using his unique style and the techniques that have taken him forty years to perfect...click here for additional information 
If you decide to order one of these prints please let Mike know that you were referred by Front Range Anglers so that an additional donation will go to AFFI
www.savlenstudios.com    Mike@savlenstudios.com
Front Range Anglers will be offering a limited series of Mike's art work...Click here
 FLY TYING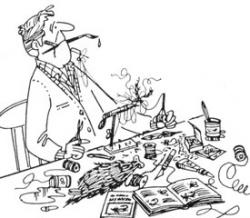 Ever since Rob Kolanda came up with the Bellyache Minnow it has taken an astounding array of fresh and saltwater fish.  This is one of those flies, like the clouser minnow, that simply works whereever you care to use it.  Every professional angler in the shop thinks it's one of the best streamer patterns around.
Learn How to tie the Bellyache Minnow...Click here
If you don't tie and would like a selection of these flies...click here.
"Growing up in Michigan I've fished as long as I can remember.  While living in northern California in the early 1980's I began fly fishing almost exclusively, just shortly after I began tying flies.  In 1989 I moved to the northern front range of Colorado, where Diana and I currently reside.  While working in the robotics and industrial automation field most of my career, I have also worked for 2 large outdoor equipment retailers and for a local fly shop. I've taught fly tying since 1995 both for area fly shops and independently for individuals and small groups.  I've also guided and taught fly fishing for local fly shops since 2004."
Learn how to tie th Fighting Crayfish...Click here
Al Ritt Flies    al@alrittflies.com    www.alrittflies.com
FIELD TRIALS
Several years ago I purchased 4 of these Fishpond Tool Pouches with no particular plan on how I might use them.  Today they have become an essential part of my traveling gear.  I use three of them for leader, tippet, and related rigging  - one for trout, the second for warm water, and the third one for saltwater.  Each is a different color so I never pack the wrong one.  The fourth is used to carry the essential components needed immediately as part of a larger first aid kit which goes on every trip....Paul Prentiss 
Get one for $16 (15% off) each on special discount for FRA News Magazine readers 
Click here and use code OCT09NEWS at checkout.  Offer good until Nov. 12, 2009.
 THE DEEP END
One of these days I'll see you again