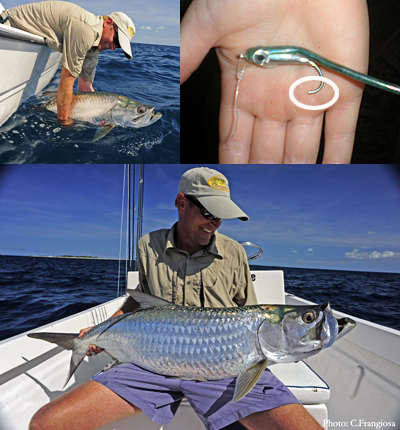 He
llo all:
Having a piece of vital equipment fail while fighting a nice fish is hugely disappointing. But not so much if he's already on the boat! This size 4 tiemco hook snapped in half a second after the guide was able get hold of him. Why a hook decided to give up after a 40 minute fight just after the fish was landed makes me believe this particular hook was very goal oriented and had some integrity. I don't hold the gummy minnow in the innovative fly pattern category, but they were very effective on my last trip to --- guess where? See the quiz below. Quiz Prize $30 gift certificate.
Thanks for reading and stay in touch,
---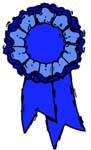 Click here for the Front Range Anglers quiz - Win a $30 Gift Certificate!
Fish Tales :: Shop News :: Hook-Ups :: Pro Corner :: Anglers That Care :: The Deep End :: Downstream
Customer Pictures Front Range Anglers customers are located in many different countries, and they are generous enough to send us photos which we love to share. If you would like to pass along a favorite shot or two click here
Please remember you can gain fame and fortune (a $20 gift certificate) for submitting a short fishing story along with a photograph that we can include in this newsletter. Click here to participate. We're not getting many of these...take 15 minutes and earn about 30% off a flyline purchase!
HOW ABOUT THIS!
ANNUAL BLITZ OFF MONTAUK LONG ISLAND SENT IN BY BARRY KANAVY. CAN YOU IMAGINE DROPPING A FLY INTO THIS MASS OF STRIPED BASS, BLUEFISH AND FALSE ALBACORE....watch a video
---
Keep up with what is happening at the busiest shop in Boulder, Colorado Login to our Blog which provides daily information on everything fly fishing.
Intro To Fly Fishing

The purpose of this introductory course is to provide a beginner's most basic look at the world of fly fishing. This class is for the "never ever". The class is a one day, 4 hour class that begins with 2 hours of classroom instruction covering knots, basic rigging and the basics of dry fly fishing and nymphing. The second part of the class is conducted at a nearby lake and students are taught the fundamentals of casting.

Register online
Starting on December 4, 2010 stop in to see/participate in our fly fishing clinics.We've got one of the best line ups in Colorado....Ken Iwamasa, Al Ritt, Andrew Grillos, Maurice Blackmon, Mark Rayman, Steve Schweitzer, Dale Darling, Shawn Bratt, John Bruning, Rick Takahashi, Richard Pilatzke, Paul Prentiss, Bob Bush, Wallace Westfeldt, and more. Naturally we'll do a fair amount of fly tying but there will also be a lot of 'where to' and 'how to' in every presentation.
Hook-Ups
Fly Tying

Everyone seems to have heard of the Bunyan Bug due to
The River Runs Through It
, but
can you tie one?
You'll find Golden Stones in every cold-water stream across the Rocky Mountain West. They are virtually everywhere in Colorado

"Pike on the fly is an addiction which has slowly consumed my life to an extent that I'm never truly happy until I've caught my next one especially if it's with a new fly I've tied"....Simon Graham.
---
Special Features
In early September Front Range Anglers was at the International Fly Tackle Dealer Show sponsored by AFFTA in Denver. As we toured the show we took the time to interview some of the major players in the Fy Fishing Industry.
Additionally, there were a few other interviews worth a look-see.
| | |
| --- | --- |
| Ross Reels | Hatch Reels |
| RIO Fly Lines | Tibor Fly Reels |
| Hardy Fly Rods | Winston Fly Rods |
| Scott Fly Rods | Sage Fly Rods |
Tips & Techniques
Anglers who take the time to understand how to use sink tip lines under the right set of circumstances will catch more fish than those who don't. Adding weight to your leader on a floating line may get the fly down at moderate depths but its impossible to swim the fly close to the bottom when required. Here are some thoughts on sink tips lines.
Getting The Last Laugh is always sweet. While I dredged the bottom with all manner of nymphs my damp fishing partner scored on the surface. How could I have missed the obvious!

Build MULTI-FLY NYMPHING RIGS designed to minimize hang-ups on bottom structure.
Kent Klewein is well known in Georgia for being the top guide for putting clients on trophy rainbow and brown trout on Noontootla Creek and its tributaries. Learn how to hook up with these trophies southern style on this show. Listen in to learn all you need to know about fly fishing in this area.
The Americas Cup came to town in September and Russ Miller thought that it would be a great chance to pick up a few "tips" (or a whole new style of fishing), see the pros in full garb, and watch them tear into fish. The Tournament was hosted on what I would consider my "home waters" the Lower Blue, Arkansas (near Granite), and Colorado River (near Dotsero). Much of the time I fish these waters with dry dropper rigs, nymph rigs with a bobber, or streamers and often from a boat. So needless to say when I arrived and everyone was stringing up 10+ foot rods with colorful mono attached mid line and 20+ foot leaders, I knew the circus was definitely in town.
The Colorado Division of Wildlife recently announced its regular five-year review of fishing regulations is nearly complete. Anglers and other interest groups can review the proposed regulations and submit feedback prior to finalizing the review. Final regulations should be adopted at the Nov. 12 DOW meeting in Yuma. The proposed changes and draft regulations can be viewed on the DOW website Comments can be submitted to Dave Chadwick, DOW public involvement coordinator, at (303) 291-7174.
Trout Unlimited (TU) has awarded its top volunteer honor to Sharon Lance, of Centennial, Colo. TU President and CEO Chris Wood presented her with the award at the organization's annual meeting in Waterville Valley, New Hampshire."Sharon is the epitome of a TU leader," said Chris Wood, TU's president and CEO. "She is passionate, dedicated, and extraordinarily generous with her time and expertise. Her influence and reach extend well beyond Colorado. Anyone who cares about trout and salmon should give gratitude to Sharon Lance," Wood said.
Sage won 2010 Dealer's choice award at International Fly Tackle Dealer in September for the 4200 reel series and the TXL-F ultralight rod series.
In respect to the new rod, Sage maintains that "it has created the lightest and most responsive fly rod series to date with the TXL-F family of rods. Successfully surpassing the performance of the TXL series. They have reduced in weight from the TXL series by 33 percent by the development and use of Micro Ferrule Technology and an exclusive ultra-light guide package."
"I set out to create a rod for the ultimate light line fly fishing experience, and thanks to some great breakthroughs in technology, it has been achieved," notes Jerry Siem, Sage Rod Design Engineer. "This rod series exceeds expectations in both weight and sensitivity to give the light line fly fisherman performance beyond belief." These rods will be a great option for fishing small streams along Colorado's Front Range.
Could you survive? Craig Horlacher, a geologist who was fishing for cutthroat trout north of Steamboat Springs, Colorado. He slipped in the river, broke his leg and spent 5 days and six nights… in the river.
Marles H. Frankman of Golden Valley, MN spent a half hour dueling with this 47-pound, 8-ounce Taimen (Hucho taimen) after it grabbed the Dairiki streamer she was fishing in Mongolia's Ur River on June 7, 2010. Mrs. Frankman qualifed herself for the International Game Fish Association's 16-lb. tippet world record.
AFFTA Chairman, Jim Klug of Yellow Dog Fly Fishing Adventures, made the announcement that AFFTA intends to take IFTD to New Orleans, LA for 2011. The planned dates for the show will be August 18-20, 2011.
3M announced today that it has signed a definitive agreement to acquire Ross Reels of Colorado.
Bozeman angler Jon Yousko, along with Team Worldcast members Mike Dawes, Don Watson and Geordie Gillett, out-fished the competition to take home top honors at the Jackson Hole One Fly in early September. Read more about the event and how they won the competition.
Don't even think about it... just order your free subscription
Tampan is the Winner of the 5th Annual Drake Video Awards 2010 "Best Fishing".
Produced by Daniel Göz and Jan Bach Kristensen.....incredible footage...a must see.
JB travels from a Rhode Island to British Columbia to enjoy some personal time off. Along the way he gets a chance to see what hurricanes are all about and finds some some Big T style fishing on the Cheakamus River.
According to the company "the NRX is the culmination of what we have been doing at G.Loomis since day one. We have been continually striving to build the best rod on the planet. Laminates, resin, mandrels, components and the know how you expect from us. These NRX rods look like nothing we have built before. They feel better than anything we have built before. We aren't talking about a little better here or a little lighter there...What we are saying so there is no confusion... " This is the Best Fly Rod Ever Built!" Period!!" See the video
I have gotten a chance to take out the 6wt on many different float trips during the late summer and fall. Trips this time of year really require a lot from a rod, from big heavy indicator rigs early in the morning, to size 18 dries w/6x tippet during the afternoon hatch, while the evening is spent throwing double streamer rigs w/ 2 & 3x. I can say with total confidence that the GLoomis NRX series handles all of those situations with ease. No need to bring more than one rod for different fishing situations. Plenty of power and backbone to effectively work streamers while having a soft enough tip to hit feeding fish in the ~20 foot range with small dries. A really impressive casting rod and it's not half bad looking either.
~Russ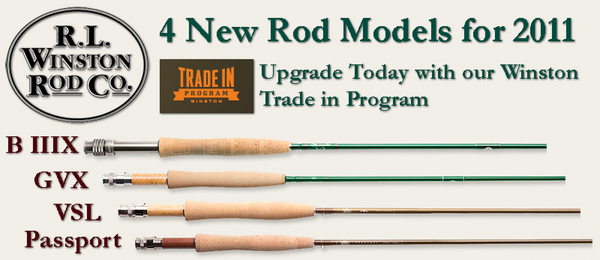 Winston has pulled the cover off of four new rod models this year, the Boron IIIX, GVX, VSL, & Passport. These rods will range from $755 to $199 and each model and series has a specific application from Tarpon sticks to small presentation rods for beginners. Take advantage of Winston's unique Rod Trade in Program, where we will give you credit for your old rod towards a purchase of a new Winston Fly Rod.
We also have last year's Winston Fly Rods on SALE!
Paul Prentiss who has a soft spot for Abel products is very keen on the new 7/8 N Series
Read

the 2009 Colorado Trout Unlimited Annual Report
Colorado Trout Unlimited has expressed serious concerns to the BLM in respect to Cristo's Over The River Project. Read their response in full (pdf file).
"Is this how you do the double haul"
The Contemplative Angler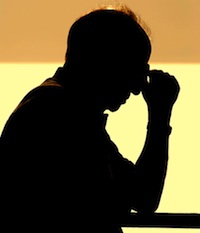 A 72 year old fisherman was sitting in his boat the when he heard a voice say, "Pick me up." He looked around and couldn't see anyone He thought he was dreaming when he heard the voice say again, "Pick me up."
He looked in the water and there, floating on the top, was a frog.
The man said, "Are you talking to me?"
The frog said, "Yes, I'm talking to you. Pick me up then kiss me and I'll turn into the most beautiful woman you have ever seen. I'll make sure that all your friends are envious and jealous because I will be your bride!"
The man looked at the frog for a short time, reached over, picked it up
carefully, and placed it in his front breast pocket.
Then the frog said, "What, are you nuts? Didn't you hear what I said?
I said kiss me and I will be your beautiful bride."
He opened his pocket, looked at the frog and said, "Nah, at my age I'd rather have a talking frog." With age comes wisdom!
Down Stream (upcoming content)
Captain Mike Conner's two new baitfish patterns?
Learn how to fish Wyoming's North Platte at Grey's Reef
When trout are taking emerging midges just under the surface, how should you respond?
Why did that damn knot break?
Is it possible to get to the Bighorn by way of Mount Rushmore?
What the h-- is a Wingman Fly?