Add Front_Range_Anglers@mail.vresp.com to your
address book to ensure our emails reach your inbox.
News Magazine ~ March 2010
Dedicated to bringing people and fish together
Click here for a free subscription or to
read editions dating dack to 2003
Bill Leuchten, Owner ~ Rob Kolanda, Area Manager ~ Jon Spiegel, Area Manager ~ Jay Zimmerman, Area Manager ~ Russ Miller, Webmaster ~ Paul Prentiss, Customer Communications,
Larry Jurgens, Instruction Services ~
Patrick Knackendoffel Guide/Staff
IN THIS EDITION
FRA CLINIC PROGRAM FOR 2009/2010
FISH TALES ~ REEL NEWS ~ ANGLERS THAT CARE ~ TIPS & TECHNIQUES ~ FLY TYING ~ FRA GUIDE CORNER ~ THE DEEP END
Hi all --
Getting to the stream at sunrise on the South Platte can be a thing of beauty this time of year, but it can require a couple hours of waiting time for the ice to break up and move downstream. Yes, it's still very cold, but the fishing has been very good. We are hitting that great fishing pocket that is here every March; run-off has not started, the weather is getting hospitable, and the fish are coming alive.
We are active here at FRA with a lot going on. 2 more Saturday morning fly tying clinics, 2 trips to Grey Reef and Baja, an outstanding entomology class, intro to fly fishing classes. Bring it on!
Hope to see you,
Bill

Click Here to see a Slideshow from the Dream in March
photos by: R.Miller
---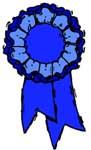 Win a C&F Designs large 12-row fly box!
---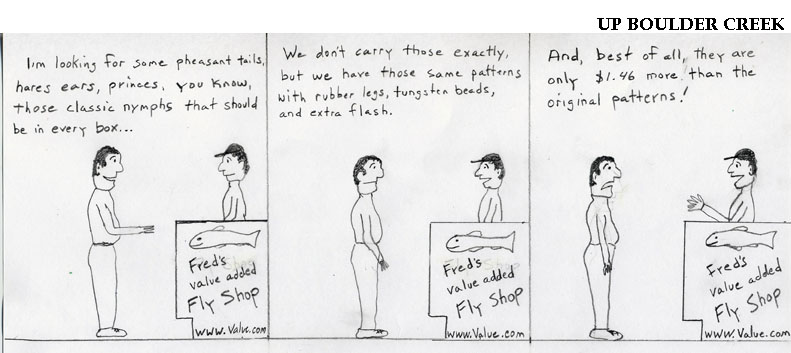 FISH TALES
Phil Pinson has a pretty big smile while showing off this 7-pound Brown Trout taken in the Fiordlands area of New Zealand. "The fly was a 16 dark maroon hairs ear with a tungsten bead. Biggest fish in my life thus far!"
Mike Janeczkos sent us this picture of Larry Mann showing off a 44-inch Musky that he caught fly fishing on the day after Thanksgiving last year. They were floating a river in Northern Wisconsin near Mike's cabin on Spider Lake, outside of Hayward. Larry and his wife Wendy Williamson are the proprietors of the Hayward fly fishing company. After Mike missed the first fish Larry didn't miss the second which took a Bleeding Flamingo which is 10-inches long and designed for Tarpon. "The fish pegged-out the Boga Grip but from the length/girth measurements it was pretty close to forty pounds."
"The rivers were wide with low gradient and clear as gin. The fish were strong as was the wind on several days. Browns and Bows to 20-inches +. As far as I can tell the 3 food groups in Argentina are red meat, cheese and pastry--a cardiologist dream"….Greg Nelson. The Brown Trout Greg is showing off was taken on Chimehuin River. It is considered the first river that gave northern Patagonia its renowned trout fishing reputation. The "Chime" has produced the largest landlocked brown trout in all of Patagonia.
Vince Cherry passed along a picture of "Middle Tennessee Pigs"
David Bristol took this cutbow on a early June trip to Island Park, Idaho. "She hit hard and took several long runs without jumping. We had no idea it was such a monster until we got her in the net. After a short philosophical debate I let her go, moronically not taking measurements. We estimated her over 15 pounds which is close to the Idaho state record of 17 pounds! We fished for 5 days and it snowed on us every day, but what a great trip."
KEEP ON SENDING US YOUR PHOTOS & STORIES
click here to submit a photo
Mark and Lou Moller spent some time exploring Long Island in the Bahamas in February. This is a great spot for do it yourself anglers. The Island is 80 miles long and 4 miles wide with a population of 4,000. The island has a huge system of flats, creeks, and channels covering some 175 square miles.
FRA Fish Porn Contest....Last Chance
Win a custom Bragging Rights illustration from artist Mike Savlen ready for framing (1st. place), a TFO TiCr fly rod of your choice (2nd. place), and any RIO fly line you might like (3rd. place).
Mike creates these new original paintings with digital brushes that are custom replicas of brushes he uses in his studio. These new paintings are created using his unique style and the techniques that have taken him forty years to perfect...click here for additional information
There are no restrictions other than the photo must include a fish (any species). The image file(s) (you may submit more than one) must be in a JPG or TIFF format and of good quality. The FRA staff will vote on the submissions and the winners will be announced in the April News Magazine. Entries must be received on or before March 15, 2010. Click here to attach your photo to an email.
REEL NEWS
FLY FISHING FILM TOUR
$12.00 at the shop or $15.00 at the Boulder Theater
Date/Time: April 1, 2010, 7:00 pm
Door Time: 6:30 pm
Audience: All Ages
Seating: All Seated GA


---
Click here

to buy your tickets

Click Here

to see a few of the unique items available in the live auction.


The focus this year has been on destination fishing trips. There will be over 50 to choose from - adventures on local rivers and lakes to Wyoming, Montana, the Florida Keys, Mexico, and New Zealand. Many of these trips are not available for purchase at any price because the host may no longer guide. For instance, how about a one-on-one carp clinic by the perennial winner of the South Platte Carp Slam, a night time trip for trophy bass, a weekend package to fish the Red Feather Lakes, a trip down the Black Canyon during height of the Stonefly hatch, and the list goes on!
---
The new issue has arrived and it includes some great photo's taken by John Sherman a professional photo journalist and Simms Rep covering the West Coast and adjacent states....click here
---
Colorado Trout Unlimited is launching a new monthly luncheon series for downtown Denver professionals called the "Denver Angling Society." Luncheons will be held from 12:00 to 1:00 pm at the Denver Athletic Club and will provide downtown professionals a great opportunity to connect with other anglers and conservation minded folks. The first speaker will be Kerry Caraghar speaking on "fishing within an hour of Denver" next Thursday, March 4th. Tickets are $25 per person and include lunch. To register online
click here
or contact Erica Stock at (303) 440-8973 /
estock@tu.org
---
Simms Rep Sample Sale 30% OFF
Front Range Anglers is also happy to announce the Simms Rep Sample Sale, where we have 2010 products that are not yet available in stores, but we have them for you at 30% OFF! See the full assortment of clothing here.
Size Large Only.
---
New World Record on a Fly Rod
While fly fishing Brazil's Manapolis, Rio Preto da Eva, on October 22, 2009, Jorge Massulo de Aguiar, of Manaus Amazonas, Brazil, landed a speckled peacock bass (Cichla temensis) weighing 25 lb 2 oz on a 16 lb tippet. The current IGFA record is 19 lb 0 oz caught in Nov. 1992 from Venezuela's Rio Pasimoni.
---
Terrific New Book by Anders Halverson

Anders Halverson is an award-winning journalist with a Ph.D. in ecology from Yale University. He wrote An Entirely Synthetic Fish as a research associate at the University of Colorado's Center of the American West. He lives in Boulder, Colorado with his wife and three sons.
We're not the only ones who think this book's a worthwhile read.
Click here to read the full review in the Washington Post
There is also an interesting interview with
Lewis Lapman on Bloomberg.com ... click here
---
45th annual Fly Fishing Fair and Conclave
The Federation of Fly Fishers will hold the 45th annual Fly Fishing Fair and Conclave on August 24-28th in West Yellowstone, MT. Each year hundreds of business help to make the event a success through sponsorships and in-kind donations. All proceeds from the Fly Fishing Fair help the FFF to educate thousands of youth, expand public awareness of fly fishing, and protect threatened waters for the benefit of future generations.

The FFF is seeking general sponsors, exhibitors, and auction donations for the 2010 event.
ANGLERS THAT CARE
Sometimes the best way to preserve and protect rivers, streams and trout is by working at the Colorado General Assembly. A single piece of legislation - or even a bad amendment - can undo years of on-the-ground conservation work. Colorado Trout Unlimited's Jen Boulton works full-time during legislative sessions as an advocate for trout and as an educational resource for lawmakers, many of whom benefit from Jen's comprehensive knowledge of water law, stream biology and environmental regulations. You can keep up to date on Colorado legislation than will impact water resources by clicking here and adding the link to your favorites.
TIPS & TECHNIQUES
Mark Lance grew up tossing poppers and plastic worms to farm pond bass across Oklahoma, Texas and Arkansas. When his family moved to Colorado, trout became his passion followed closely by photography. Both of these interests have been merged together in the framework of his business, River Light Images.

"I am a freelance photographer and writer, traveling frequently to far corners of the fly fishing globe in search of fish, compelling imagery and a good story. My fly fishing images have been published widely across the fly fishing industry for advertising, product promotion and editorial use. I feel fortunate to have worked with many fine companies in the industry including Scott Fly Rods, Hyde Drift Boats, Hatch Outdoors, Patagonia, ExOfficio, Trout Unlimited, Reel Recovery, Southwest Fly Fishing, Fly Rod & Reel, American Angler, Gray's Sporting Journal, The Best of Kamchatka, Rio Azul Lodge, Stafford Creek Lodge and others."....Mark Lance

Click here to get a taste of Andros Island in the Bahamas
---
Here's a question to ponder. Where is the first and most important point of contact between you and the fish? That's right, it's the hook -- and good sharp hooks equal good hookups.
Today's hook manufacturers provide you with a very sharp hook right out of the package, but it's worth checking and they do get dull faster than you might think. The standard method of checking is to gently draw the point of the hook across your fingernail. If the point digs in and leaves a mark it is sharp.
There are lots of different hook sharpeners but my preference is the simple pen style diamond file (coated with industrial diamond dust to create millions of cutting edges) from EZE-LAP which can be had for a few dollars.
When you sharpen a hook you want to concentrate on the point because removing too much material from the sides weakens the point. The objective is to achieve a triangle created by the sides and the bottom. This is accomplished by drawing the file across the barb towards the point with an equal number of strokes on each side. Then make a few strokes on the bottom of the hook forming the triangle.
When in the in the field I use a pair of forceps or pliers to firmly grip the hook while sharpening.
---

Sight Fishing for Trout
Landon Mayer - Fly Fisher/Fly Tier/Guide/Author
Landon has perfected the art of sight fishing for trout. His strategies and techniques have worked time after time landing him and his clients many trophy trout. Listen in and learn about the method he uses. More about Landon Mayer...
Click Here to ask Landon Mayer any questions you have about specialty casts and how to get your fly to the fish...
Tune in to the LIVE Show...
March 3 - 7:00 PM (MT)
Landon Mayer is a fly fishing guide in the Colorado Springs, Colorado area, calling the South Platte River his home water. He has been guiding on these waters for the past eleven years.
---
Boulder Boat Works New Convertible River Taxi
New for 2010 Boulder Boat Works has introduced the newest and most affordable drift boat in their line up, the Convertible River Taxi. This boat allows anglers to have the quality that BBW is know for with a much lighter price tag. "If you dont own a Boulder Boatworks yet its because you havent rowed one."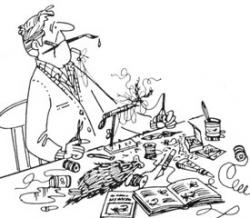 For Simon Graham It's All About Pike
No question about it. Simon Graham's Pike fly-fishing blog is the most informative and comprehensive site on the web for pike fly fanatics. How does a South African end up in Finland operating a pike fishing business?

After 25 years Simon returned to the UK where he was born in 1995. It became his home base for a series of adventures around the world including Australia, New Zealand, Venezuela, Costa Rica, Russia and more. While traveling through Scandinavia he was struck by the incredible pike habitat and fishing offered in Finland. Undaunted by the need to leave his job and relocate, he enrolled in the International wilderness guide course held in Kuru and ultimately formed Baltic Pike Tours on Replot island.

What is so special about the area? "The most productive times generally for targeting pike on lakes with fly or by lure in Europe, The States & Canada would fall directly after spawning in May & June, slowly dropping off as pike move into deeper waters through the summer months. Picking up again as pike move back into shallower water to feed on shoaling fry as the water cools down through the autumn months of August & September. What makes the Baltic & especially around here in Replot so special, is that due to its high latitude and large water mass, water temperatures stay constant from the beginning of May to the end of September which allows for fantastic pike fishing throughout the season."

Among Simon's many talents is his ability to design artistic yet deadly fly patterns which fly tiers admire and fish can't resist. Incorporated in this issue are two slide slide shows featuring these patterns. For more pictures and information please visit his site. If you have occasion to go to Finland you now know where to go!

Pike on the fly tours start the 1st of May and run until the the 15th October

Click on the picture at the left to see slide show #1
Click on the picture to the right to see slide show #2
---
The Whisper Shrimp
Doug McKnight is one of theYellowstone Anglers Managers and a guide. By the time he was 15, Doug began tying flies commercially and started teaching others at 18. In the Fall of 2005, Umpqua Feather Merchants added Doug to their list of fly tying designers.
Doug's career has provided him with the chance to fish around the world, including: New Zealand, Chile, Alaska, Russia, Bahamas, Belize, Mexico, the Florida Keys as well as all over the Western and Northeastern United States.
RECIPE:
• Hook: Std. Saltwater #1/0-8
• Thread: UTC 140 color to suit
• Tail: Tan craft fur or Polar fiber, orange pearl crystal flash
• Antennae: Long strands of Black Pearl crystal flash, white spanflex colored with pink,
tan sharpie markers
• Eyes: Shrimp/crab eyes
• Claws: Pair of rooster neck hackles
• Hackle: large rooster neck hackle for collar
• Body: Antron crystal chenille, tan
This video was provided by the Weekly Fly.....check out their site by clicking on the logo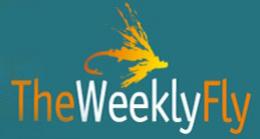 ---
Last Week Mark Rayman recently did a Flytying Clinic for us and he always has some great looking patterns for warmwater fishing.
Mark has spent better than 40 years fishing for just about anything that swims. He's been a guide, instructor, youth program coordinator, and active member of Colorado's St Vrain Trout Unlimited Chapter.
Click on the pictures below for an enlargement
---
Talking about fly tying clinics, here's one of the dozen patterns that Al Ritt tied for us a few weeks ago. This has got to be a great option when small yellow stones flies are about. The wing is snowshoe rabbitt and the orange foam is open cell. Note the clipped hackle on the the abdomen.
---
See the newest Renzetti product in action, Caddis and Mayfly wing burners will add a realistic touch to your favorite patterns....click here. Get it here.
Front Range Anglers is in a position to make a limited time offer on Renzetti Vises. The Presentation 2000, 3000 & 4000 Vises come with a Free Renzetti Tool Caddy. With the purchase of a Master Vise get a Free pair of Renzetti Scissors. The offer is good until March 15th so take advantage of this great deal. ...see the line-up.
FRA GUIDE CORNER
My name is Wallace Westfeldt. When I made money for a living I was in high-tech. But now, fortunately, I spend most of my time on lakes and rivers helping folks catch fish. I started fly-fishing in Colorado in 1960. I have been guiding and instructing for four years....Wallace
This month in Rags to Riches Wallace addresses the issue of rigging for winter fishing on Colorado's Big Thompson - Mall Road to Dam. 20cfs, Water temp: 38, naturals: midges: larva, pupa, emergers, adults ; #24 or smaller
Fly fishing guide and sculptor John (JB) Bruning (Confluence Arts, LLC) lives and works in Longmont, Colorado. JB loves to take clients to the pristine streams and lakes in northeastern Rocky Mountains.
Fly fishing is much more to me than just catching fish, its the pursuit and the places where trout live that are most appealing to me...catching a trout is a bonus. I'll leave the technical writing to those who do it better and I'll tell stories about my fly fishing experiences and observations over the past 48 years...JB
This month JB wrote Getting Started which talks about how and where his passion for fly fishing arose.
THE DEEP END
This video was captured by a fly fisherman (wishful thinking) while observing a baitcaster on his favorite pond....it needs to be watched several times for full impact
"Hang on to this fish while I get my camera"
"I told you these fish just take off when hooked"
"This fly works anywhere"
PROGRAMS & CLINICS
When you need a break, stop by the shop to talk fishing or to watch a clinic.
2009/2010 Front Range Anglers Clinic Program

Nov 14th

Jay Zimmerman

. Our in-house Bug Meister doing his thing. Oh yeah- he has a couple of new hot flies out from Umpqua.

Nov 21st

Mark McMillen

. Local guide and resident enthuisiast shows his favorite Carp and Bass flies and talks techniques for tackling local warmwater predators.

Nov 28th

Thomas Zigler

. Thomas has managed and guided in shops in Missouri, neck deep in bass country. His tying and fishing insight for Smallies, Largemouths and Spinning Deer poppers is unparralelled.

Dec 5th

Mike Kruise

. Owner and guide for Laughing Grizzly Fly shop in Longmont ties Guide Patterns for local streams. If you're looking for new ju ju for the Park or Big Thompson this is a must see.

Dec 12th

Chris Shrantz

. Boulder Boatworks manager and designer for Umpqua Feather Merchants shares tying and fishing techniques drummed up from his 20 plus years of industry and guiding experience in Colorado and Wyoming.

Dec 19th

Larry Jurgens

. Local tying expert and well known liberal shares his latest and greatest patterns for Baetis, Caddis, and Midges for Colorado rivers and lakes.

Dec 26th -OPEN

Jan 2nd

J.D. Miller.

Ex-Boulder flyfishing professional gone Idaho guide comes down to share his favorite imitations for the Henry's Fork, Madison and others. Planning a trip to Montana or Idaho next year? JD will help point you in the right direction.

Jan 9th

Paul Prentiss

. He's been fly fishing and fly tying for over 50 years. He started in Colorado when all the ranchers were local and were happy to let you on their water. He has a few ideas to share on the subject of trout flies.

Jan 16th

Charlie Craven

. Owner of Charlie's Fly Box, esteemed fly designer, author and all around good guy comes back to Boulder to show off his new creations and sign copies of his book.

Jan 23rd

Al Ritt

. Peak Vise Representative and signature fly designer for Montana Fly Company shows his newest creeations for local waters and shows off his signature tools to make every tier's efforts easier.

Jan 30th

Pat Dorsey

. South Platte Guru does his Flyfishing Tailwaters presentation to complement his new book "Flyfishing Tailwaters". Bring your book in for signing or get one here and learn to tackle your favorite tailwater with the master.

Feb 6th

Greg Garcia

. "Rojo Midge" Greg Garcia will be in to show off his newest patterns available from Umpqua Feather Merchants, as well as show his Colorado staples. A fantastic demonstrator and instructor!

Feb 13th

Wallace Westfieldt

. This presentation, "A Guide's View of Entomology", simplifies bug ID and fly selection for local water. Wallace has been a local guide for several Colorado outfitters over the past decade, and his insight is invaluable.

Feb 27th

Patrick Knockendoffell

Guide extrordinaire and fly tying madman always brings new ideas to the viSe. Trout and Warmwater enthusiasts will walk away with new tricks and inspiration.

March 3rd

Vincent Su

The designer of the 720 Vice and small fly aficionado, shows what it takes to make the best parachute dry flies around. This is a must for the dry fly fisherman.

March 13th

Rob Kolanda

From AK to RMNP, Rob has come up with some of the best fly patters around. As a Solitude tier he has gotten some excitement built up about his trout patterns. Get ready for big rainbows with this demo.

March 20th

Paul Prentiss

Paul will be tying up some of his time tested patterns that continue to produce on the front range and beyond.

Classes and Trips

---

Intro to Fly Fishing

The purpose of this introductory course is to provide a beginner's most basic look at the world of fly fishing. This class is for the "never ever". The class is a one day, 4 hour class that begins with 2 hours of classroom instruction and 2 hours on the water.
Click Here to register and pay online.

Cost $80
Class times: Every Other Sunday 9am-1pm
Dates:March 21st, April 4th, April 18th.

Our favorite entomologist is back doing another class on April 24th, 2010. Patrick Tennyson of the Butterfly Pavilion is an expert with bug identification and the critters that inhabit the front range. This is a two part class that takes place on the water and in the classroom.
Learn more and sign-up here.
Cost: $95

---




---

Get ready for warm temperatures and big rooster fish from the beach. FRA is running a group trip to the East Cape of the Baja, three days of guided beach fishing for only $1800. This might just be some of the most fun fishing on the planet.
Find out more here.

FRA is offering a trip to the Grey Reef May 7th, 8th, & 9th. Anglers have the option to come up on Friday, stay the night, then fish walk wade all day Saturday, and then take a guided float trip on Sunday. Cost on the trip for one night lodging is $275 for a double occupancy room. Find out more, here.

f