Add Front_Range_Anglers@mail.vresp.com to your
address book to ensure our emails reach your inbox.
News Magazine ~ January 2010
Dedicated to bringing people and fish together
Click here for a free subscription or to
read editions dating dack to 2003
Bill Leuchten, Owner ~ Rob Kolanda, Area Manager ~ Jon Spiegel, Area Manager ~ Jay Zimmerman, Area Manager ~ Russ Miller, Webmaster ~ Paul Prentiss, Customer Communications,
Larry Jurgens, Instruction Services ~
Patrick Knackendoffel Guide/Staff
IN THIS EDITION
FRA CLINIC PROGRAM FOR 2009/2010
FISH TALES ~ REEL NEWS ~ ANGLERS THAT CARE ~ TIPS & TECHNIQUES ~ FLY TYING ~ THE DEEP END
Hello all:
I'm not saying you should stay on the couch watching F-Troop re-runs, there is plenty of water open for all of us. But, with our colder weather it has gotten a little tougher. A lot of our tailwaters in Colorado are open for business but the amount of open water has been reduced. I've had some epic days fishing in the winter and those particular days stand out in my memories because it felt like I stole a special day from the winter season. The days where I just froze and got my butt kicked get forgotten like a bad dream. I suppose this is a useful trait for any fisherman and perhaps my best fishing skill. A short memory is underrated.
Bill

---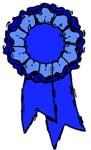 Win an FRA Bass Fly Selection!
---
FISH TALES
Bob Thibault of Elko Nevada is seen here holding a Pyramid Lake Lahontan Cutthroat. Below is his friend Joe Doucette showing off a fish caught in the Spring of 2009. Notice the step ladder fishing platforms these guys use. Bob tells me that the shoreline is pretty shallow for about 60 yards and then the shelf drops off quickly.

"It is quite a place to fish if you ever get the chance. 30" cuts are occasionally caught, but it is more common to get skunked. When you hook into the big one, it makes it all worth it. The lake is also home to the rare Qui Oui, which is a white fish that only exists in one other place."

The typical rig is a two fly setup with black, white, purple and chartreuse woolly buggers the most common patterns. "The copper john is probably the most common nymph, either stripped with a wooly bugger, or fished with a strike indicator and allowed to bounce in the waves."

"Licensing is through the reservation there, no NV license is required. The cost is about $25 for a three day pass, which can be bought in Sutcliff or Nixon at any of the reservation stores."

Thanks Bob for your insight....FRA

Fair is fair...last month it was Chris Heslop showing off a 6-pound rainbow so here's a picture of his wife Isobel with her own catch
Australian Fly Fisherman, Neil Goodings, tagged this nice Rainbow along with nine others in Tasmania during November of 2009. He took them on a Black Bob. I know your question, "what's a Black Bob?" Here's Neil's response: "A black bob is tied on an 8-10 streamer hook with a heavy bead head, short fluro-green tail and a thick body of what the English call "Fritz" chenille. I also like to add two or three strands of crystal flash (only slightly longer than the Fritz) about midway on the body.
KEEP ON SENDING US YOUR PHOTOS & STORIES
click here to submit a photo
FRA Fish Porn Contest
Win a custom Bragging Rights illustration from artist Mike Savlen ready for framing (1st. place), a TFO TiCr fly rod of your choice (2nd. place), and any RIO fly line you might like (3rd. place).
Mike creates these new original paintings with digital brushes that are custom replicas of brushes he uses in his studio. These new paintings are created using his unique style and the techniques that have taken him forty years to perfect...click here for additional information
There are no restrictions other than the photo must include a fish (any species). The image file(s) (you may submit more than one) must be in a JPG or TIFF format and of good quality. The FRA staff will vote on the submissions and the winners will be announced in the April News Magazine. Entries must be received on or before March 15, 2010. Click here to attach your photo to an email.
New Year's Resolution #1 .... Take a Kid Fishing in 2010
I came across the picture below and was most taken by the wonderful gift this father was giving to his sons...Paul Prentiss

Pictured above is Geir Kjensmo from Norway with his two sons on the river Orkla. The boys are taking turns fighting a magnificent 22-pound salmon. In Geir's words...
"I hope this was the moment that two new fly fishermen were born!"
REEL NEWS
Fly tier and author Jack Gartside passed away on December 7, 2009 after a prolonged fight with lung cancer. His creativity as a tier will be with us for a long time. Jack's best-known original patterns include the Gurgler, Sparrow, Soft Hackle Streamer, and the Gartside Pheasant Hopper. My favorite has got to be the Gurgler which sits somewhere between the popper and the slider. You can retrieve it with a gentle wake or jerk it causing a lot of surface disturbance. Its easy to tie and casts like a dream. It's little wonder its design has been incorporated in so many patterns.
"In my high school yearbook, other people listed doctor or lawyer in the space provided for their future job,'' he told Field & Stream magazine in 1999. "I put fishing.''
...Eulogy in the Boston Globe.
Go to fly Tying section for information on how to tie the Gurgler
Boulder Fly Casters to Publish Boulder Creek Maps
For a number of years the interest in putting together a series of maps covering various sections of Boulder Creek has been discussed. In mid-2009 Ken Iwamasa stepped forward to head the project. With the help of some 20+ volunteers this multi-page set of maps, instructions, recommended fly patterns, fishing access locations, and more will be available in the spring of this year. If you're interested in more information about this project/document click here to send an email inquiry.
---
Like many artists, Jeff has been drawing since a young age. His medium of choice is watercolor and gouache but he has been known to dabble with unconventional mediums. Many of his watercolors are held by State senators, pro golfers and fly fisherman. Jeff's work has appeared in American Angler (where he got the handle, "Lord of the Flies"), Fly Fusion, Duck's Unlimited magazine and the Croatian magazine, Sportski Ribolov. He is also a regular guest on Fishing Florida Radio and his art is featured regularly on Midcurrent .com.
Jeff spent the entire year of 2008 painting a fishing fly everyday for 365 days. These appeared on his
Drawing Flies Blog
. At the end of 2009 he completed a terrific 154 page book of his year long project. He gave Front Range Angler a special sampling …
click here
.
Click here to order a copy from jeff
---
Boulder Boat Works Introduces the CTR
(Convertible River Taxi)

Boulder Boatworks long know for its inovative materials and design is announcing a brand new drift boat in 2010 which will be on display for the first time at the Denver International Sportsman's Exposition January 7th–10th, 2010 (Booth 376)
"This new model was designed by the Pros and promises to lead the drift boat industry in performance, value and innovations! No wood to maintain, a lower price, and the same great Vhmw-Polyethylene hull (available High or Low side).
Some of the new features: composite Line-X gunnels, composite bow stem and transom, sliding/trim front seat, with optional two chair layout, sliding trimmable oarsman's seat, adjustable oarlocks, adjustable foot brace, drink holders, rod holders, removable rear pedestal seat box, non-skid raised and leveled floors, in-floor anchor system, and optional dry storage boxes for all positions."
Chris Schrantz and Andy Toohey rightfully excited about this new model which fill a hughe gap in the marketplace.....
click here
for the announcement picture
---
Beattie Productions


This 180 minute video is a collection of works - four feature films and ten short films. It includes "Nervous Water," "Slovenia on the Fly," "First Descent Alaska," "Bird Chasers: the False Albacore Junkies of North Carolina," and the award-winning short films "Angling addiction," "Kate and Mark," "Stream of Consciousness" and "Green Screen." Also contains the short films "NC Redfish," "Desert Bass," "Permit and Bonefish," "Wyoming Carp," "Black Drum" and "Cutties in Wyoming." Click here to see the trailer.

ANGLERS THAT CARE
ROAR.org was formed in response to Christo and Jeanne Claude's "Over the River" project. "Whether you call us "ROAR," or our full name "Rags Over the Arkansas River," our organization is dedicated to preserving and protecting the headwaters of the Arkansas River, the Bighorn Sheep Canyon, its inhabitants and the communities that depend upon them."

The "Over the River" project involves suspending horizontal fabric panels within a 45 mile stretch over the Arkansas River's Bighorn Sheep Canyon.
If Christo's 2,000 page plan has been too much for you to read and digest, take a look instead at ROAR's new summary and point-by-point analysis....click here
TIPS & TECHNIQUES
This question certainly has the potential of raising some hackles (pretty good pun, don't you think?). It may even seem self serving. But when you think about the huge population of discount houses, professional & want-to-be pro tiers selling these products its a legitimate issue.
A few years ago we put up a display that showed poorly assembled flies compared against those from folks in the business like Umpqua. But most people didn't pay attention. On reflection the display was next to the fly bins where folks were already selecting and buying flies...we were preaching to the choir.
Click here to get an opinion on this subject.
---
MidCurrent provides fly fishing tips, fly fishing gear advice, videos, interviews, and the best in fly fishing writing. Contributors are all experienced anglers, guides and authors who enjoy sharing the excitement of fly fishing. Daily news and a weekly newsletter are featured by this site which is operated by a well-know professional, Marshall Cutchin....take a look
---
The Rapala Knot
The Rapala knot has been around for very long time but it remains one of the strongest loop knots ever devised. According to a series of knot tests run by Field & Stream it has a reliability rating of 89% compared to the non-slip mono loop (86%), Homer Rhode loop (80%) and five-turn Duncan loop (60%). Click here to learn how to tie it.
---

Fly Fishing Trout Lakes - A Biologist Point Of View
Brian Chan - Fly Fisher/Fly Tier/Biologist
Brian Chan, a professional fisheries biologist, has spent most of his life studying the insect life of trout lakes. Brian will share the secrets of what happens in that underwater world and how it will help you to catch more fish. More about Brian Chan...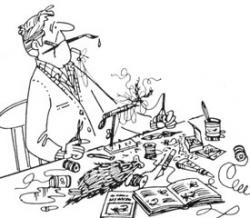 Lucas
Carroll is a freelance fly fishing photographer living in Buffalo, NY, where he has been fishing, tying flies, and taking pictures for the last five years.
His work covers all aspects of fly fishing and fly tying, however matching the hatch and macro images of bugs and flies are his most recognized images.
His latest works can be seen in
The Drake, Eastern Fly Fishing,
Midcurrent.com,
and his website
Lucas

Carroll

Photography.
Jack's Gurgler
With any popular patterns, fly tyers make their own adaptations and variations abound. As best as I can tell, the recipe below is the original tied in white:

Hook: Mustad #34011 or 34007 (SW), sizes 4-2/0 - Mustad #37187 (FW stinger hook), sizes 2-1/0 - Mustad #9674 (FW), sizes 6-2 - Mustad #3406 (FW) sizes 6-2
Thread: Danville's 3/0 or Monocord, white
Tail: Very sparse bucktail or marabou plumes overlaid with five or six strands of pearl Glimmer or Krystal Flash
Body: White closed-cell foam, with five evenly-spaced segments. Foam should be 1/2"-5/8" wide for most flies. Use foam at least 1/8" thick.
Rib: White or Grizzly saddle hackle palmered between segments
Shell: Closed-cell foam pulled over body and secured just behind eye.Trim foam leaving an excess of about 1/2" protruding beyond eye.
Click here for a how to video.
---
Lance Egan is a resident of Lehi, Utah and a Cabela's associate. He's a long time member of Fly Fishing Team USA and has competed in a number of National and International events. He finished second at the US National Fly Fishing Championship held recently at State College, Pennsylvania.
Among his many fishing accomplishments is a keen interest in fly design.
"The Headstand was created to fill a void in flies developed specifically for Carp. I needed a pattern that would sink slowly to the bottom, and once there, have a profile that is easily visible by targeted Carp. The Headstand did just that, and the fish like it too! It is available in two colors. Chartreuse, which I call the "Royal Wulff of Carp flies" because it really imitates nothing, but the fish still take it with reckless abandon, and Rusty Orange which is a bit more imitative simulating Crawfish, or myriad earth tone nymphs.

I use a Tiemco 2457 hook to tie the Headstand and with the eyes mounted on top of the hook this fly fishes inverted, or hook up. This allows the pattern to "stand up" from the lake bottom creating a great silhouette and is thus named The Headstand. Also of note is the hooking ability of this pattern because of the up-turned hook. A Carp's mouth is angled so that it is a superb bottom feeder. Traditional hooks lay flat on the bottom snagging more frequently and allowing the angler to pull the hook directly out of the feeding Carp's mouth without making contact. The upturned hook on the Headstand grabs the upper lip of the Carp upon striking allowing better control by the angler during the fight." Lance Egan
Hook: TMC 2757 in size 10
Thread: Davnille Flymaster, 6/0 rust brown
Eyes: Silver Beadchain
Tail: Hare's Mask
Body: Tan Dubbing
Hackle: Brown Hackle palmered over body
Legs: Rubber Legging Material
Wing: Peacock Sword
Head: Orange, Olive, or your choice dubbing
If you're not a fly tyer these pattern are available from Umpqua Dealers
Lance is particularily fond of the chartuse colors and tied up a couple for us.....click here
---
Enrico Puglisi Fiber Tips
After doing a story on Dave Wilshire's version of the Brassie in November (click here) I ran across a fun series of wire flies in Jean-Paul Lipton's Roughfisher Blog/Journal. For those of you that don't know, Jean-Paul is dedicated to the pursuit of "subterminally-mouthed fish to take an artificial fly."
Click for enlargement
Click for enlargement
Click for enlargement
Click for enlargement
---
Recipe
Hook:
Large Hook
Thread:
Cable
Material:
Rock - color optional
---
THE DEEP END
"I don't care how long it took your mom to knit these , I'm taking mine off"
"Sorry, but I need time to think about our relationship"
"I'm telling you the hatch always comes off at 10:00 AM"
Pictured above is an photo by Val Atkinson of an angler heading upstream in New Zealand. If you have never been to Val's site, give yourself a treat....click here
PROGRAMS & CLINICS
2009/2010 Front Range Anglers Clinic Program
Nov 14th
Jay Zimmerman
. Our in-house Bug Meister doing his thing. Oh yeah- he has a couple of new hot flies out from Umpqua.
Nov 21st
Mark McMillen
. Local guide and resident enthuisiast shows his favorite Carp and Bass flies and talks techniques for tackling local warmwater predators.
Nov 28th
Thomas Zigler
. Thomas has managed and guided in shops in Missouri, neck deep in bass country. His tying and fishing insight for Smallies, Largemouths and Spinning Deer poppers is unparralelled.
Dec 5th
Mike Kruise
. Owner and guide for Laughing Grizzly Fly shop in Longmont ties Guide Patterns for local streams. If you're looking for new ju ju for the Park or Big Thompson this is a must see.
Dec 12th
Chris Shrantz
. Boulder Boatworks manager and designer for Umpqua Feather Merchants shares tying and fishing techniques drummed up from his 20 plus years of industry and guiding experience in Colorado and Wyoming.
Dec 19th
Larry Jurgens
. Local tying expert and well known liberal shares his latest and greatest patterns for Baetis, Caddis, and Midges for Colorado rivers and lakes.
Dec 26th -OPEN
Jan 2nd
J.D. Miller.
Ex-Boulder flyfishing professional gone Idaho guide comes down to share his favorite imitations for the Henry's Fork, Madison and others. Planning a trip to Montana or Idaho next year? JD will help point you in the right direction.
Jan 9th
Paul Prentiss
. He's been fly fishing and fly tying for over 50 years. He started in Colorado when all the ranchers were local and were happy to let you on their water. He has a few ideas to share on the subject of trout flies.
Jan 16th
Charlie Craven
. Owner of Charlie's Fly Box, esteemed fly designer, author and all around good guy comes back to Boulder to show off his new creations and sign copies of his book.
Jan 23rd
Al Ritt
. Peak Vise Representative and signature fly designer for Montana Fly Company shows his newest creeations for local waters and shows off his signature tools to make every tier's efforts easier.
Jan 30th
Pat Dorsey
. South Platte Guru does his Flyfishing Tailwaters presentation to complement his new book "Flyfishing Tailwaters". Bring your book in for signing or get one here and learn to tackle your favorite tailwater with the master.
Feb 6th
Greg Garcia
. "Rojo Midge" Greg Garcia will be in to show off his newest patterns available from Umpqua Feather Merchants, as well as show his Colorado staples. A fantastic demonstrator and instructor!
Feb 13th
Wallace Westfieldt
. This presentation, "A Guide's View of Entomology", simplifies bug ID and fly selection for local water. Wallace has been a local guide for several Colorado outfitters over the past decade, and his insight is invaluable.
Feb 27th
Patrick Knockendoffell
Guide extrordinaire and fly tying madman always brings new ideas to the viSe. Trout and Warmwater enthusiasts will walk away with new tricks and inspiration.