Add Front_Range_Anglers@mail.vresp.com to your
address book to ensure our emails reach your inbox.
News Magazine ~ April 2010
Dedicated to bringing people and fish together
Click here for a free subscription or to
read editions dating dack to 2003
Bill Leuchten, Owner ~ Rob Kolanda, Area Manager ~ Jon Spiegel, Area Manager ~ Jay Zimmerman, Area Manager ~ Russ Miller, Webmaster ~ Paul Prentiss, Customer Communications,
Larry Jurgens, Instruction Services ~
Patrick Knackendoffel Guide/Staff
IN THIS EDITION
FRA CLINIC PROGRAM FOR 2009/2010
FISH TALES ~ REEL NEWS ~ ANGLERS THAT CARE ~ TIPS & TECHNIQUES ~ FLY TYING ~ FRA GUIDE CORNER ~ THE DEEP END
Hello all, The Front Range Angler's Annual group trip to the North Platte in WY (Grey Reef)was a big success. The weather held and double digit fish counts were had by all with several 20 inch plus fish caught. We have another Grey Reef shop trip planned the weekend of may 8th and there are still spots available. http://frontrangeanglers.com/catalog/grey-reef-fly-fishing-trip

Some folks say when they see robins or tree buds blooming Spring has sprung. For me, it's Blue winged olives. Our beloved BWO's are starting to present their happy faces around many of our streams. There are still a couple spots left in our Entomology class on April 24th.
http://frontrangeanglers.com/specialty-classes-and-workshops.

Thanks for your patronage and hope to see you,
Bill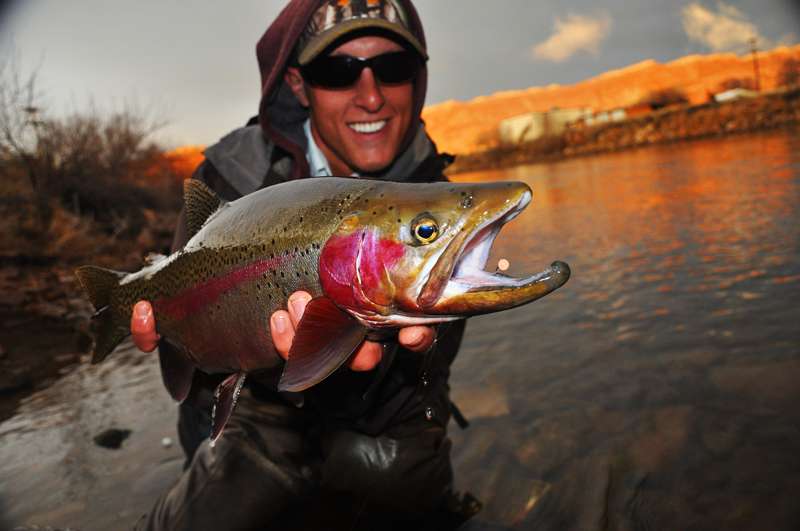 Photo: Russell Miller Angler: Andrew Zenter River: Grey Reef Shop Trip 2010
---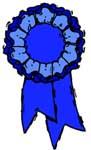 Win a Scientific Anglers Fly Rod and Reel Case
---
FISH TALES
Chris Bookout landed this 180 pound Striped Marlin in the Galapagos. All fish that he and his dad, John, caught were released. "Most of those hooked were fought to within five to eight feet of the leader but for some reason they don't cooperate when they get close to the boat. The line class is all over their bill for a good portion of the battle and it's like sandpaper. Attached are a few pictures illustrating this. We only put two in the boat of those released. The photo ops are nice but it really stresses a fish that big that's been fighting for an hour or two."
John Steinbaugh is showing off a Peacock Bass taken on the Agua Boa in Brazil's Amazon Basin (about 200 miles north of Manaus). John and his wife stayed at the Agua Boa Amazon Lodge. "The Agua Boa at this time of year is low and in most areas clear. Sometimes the fish are fairly skittish in the clear water, but went after numerous types of streamers.
They were not particular once they saw the fly. I fished with a 9 weight rod with 33 pound test. My largest fish was 18.5 pounds. I caught a fair number in the 10-15 lbs. range. The accommodations were great and the Brazilians are very hospitable."
Christmas Island proved to be a great destination for Randy Hughes at the end of 2009. The GT was taken on a Cockroach pattern. "I caught the GT during the last hour, of the last day, on the last flat I was to fish. My guide estimated the Giant Trevally at 50 pounds and 48" in length. The smile on my face says it all!"..... click here to read Randy's account.
Anita Cecilie Strindberg is showing off a huge Sea Trout in a photo taken by Helge Vetas of Norway. The fish was caught at Kau Tapen Lodge, Rio Grande, Tierra Del Fuego, Argentina.
KEEP ON SENDING US YOUR PHOTOS & STORIES
click here to submit a photo
Ed Phelan in California sent us this picture along with a special story about Julie Phelan....read it
Roger Lynn from Cheyenne, Wyoming sent along these pictures from Upstate New York trips "A female brown that measured 28" in length and 22 1/2" girth. Caught on a damsel fly. The hit was subtle, but the initial run was indicative of her size." The salmon in the lower picture was taken in November of 2008 "25 Minutes & 400 yds down stream this picture says it all. 18lbs on a boga grip."
Since the first of the year, we've received a lot of great photos and they are still coming in. Quite a few readers didn't see our notice of a March 15 deadline so we're simply going to extend the contest until June 1, 2010. We have also received quite a few photos that were simply unusable due to the size or resolution (most appear to be cell phone photos). As an incentive to those of you that have not sent anything in here's a sampling of some of the pictures on file.
PRIZES

Win a custom Bragging Rights illustration from artist Mike Savlen ready for framing (1st. place), a TFO TiCr fly rod of your choice (2nd. place), and any RIO fly line you might like (3rd. place).
Mike creates these new original paintings with digital brushes that are custom replicas of brushes he uses in his studio. These new paintings are created using his unique style and the techniques that have taken him forty years to perfect...click here for additional information
There are no restrictions other than the photo must include a fish (any species). The image file(s) (you may submit more than one) must be in a JPG or TIFF format and of good quality. The FRA staff will vote on the submissions and the winners will be announced in the June News Magazine. Entries must be received on or before June 1, 2010. Click here to attach your photo to an email.
REEL NEWS
It's Official

photo: Russell Miller

The "Dream Stream" portion of the South Platte River connecting Elevenmile and Spinney Mountain reservoirs will become the Charlie Meyers State Wildlife Area on May 1. The change was unanimously approved by the Colorado Wildlife Commission on Thursday during its monthly meeting. This is a fitting tribute to Charlie who died Jan. 5 after a two-year battle with lung cancer. He had a long time involvement in bringing this stretch of river into the public domain and helping maintain its quality by encouraging sound resource management.
---
Fish Explorer Expands
Already the premier resource for facts on Colorado lakes, FishExplorer.com has recently added rivers to its deep base of knowledge about fishing waters in the state.
In addition to insights on 135 lakes, the site now features 26 river sections, each with its own dedicated page. New river sections will be added on a regular basis, and the site allows members to submit detailed information about the rivers.
Fish Explorer now has 13,300 registered members, and over 30,000 monthly users.

For information visit www.fishexplorer.com
Tim Emery, VP of Sales & Marketing at left
Listen to Tim's weekly podcasts...click here
---
Why are the outdoors and spending time on the water so important to you?.... the topic for Fishy Kid's first writing contest of 2010.
Click here for rules and eligibility
---
The third season of "Trout Unlimited: On the Rise" debuts on March 30.

The 13 action-packed episodes will take you on fly-fishing adventures around the country, in places where TU is making a difference.
"On the Rise" is hosted by Colorado's own Frank Smethurst, who travels across the country reaping the rewards of TU's hard work. He will highlight critical issues facing America's trout and salmon. From casting streamers for salmon in Bristol Bay to fishing for wild brook trout in Long Island, Smethurst will leave no stone unturned in the quest for wild trout and the people who work to protect them.
---
ANGLERS THAT CARE
---
Thumbs Down on Felt Soles
The Alaska Board of Fisheries is adopting a statewide phase-out of felt sole wading products, effective Jan. 1, 2012. The move is aimed at guarding against the spread of aquatic invasive species.
The board on Friday, March 19, passed the proposal unanimously after hearing testimony earlier in the week from anglers, lodge owners and others who warned that unless Alaska takes action to protect its freshwater rivers, lakes and streams, they risk becoming infected as in other parts of the world. Alaska is now the first state to enact a complete statewide ban on felt sole wading gear.
---
Colorado Fishing Reg Hearings
The Colorado Division of Wildlife has begun its five-year review of statewide fishing regulations and is looking for input from anglers and sportsmen organizations.The regulations include allowable methods of take, season dates, size requirements and bag limits.
The new regulations will be formally adopted in November.

Comments on regulations can be submitted to the following people:

Southwest Region:
John Alves- (719)587-6907 or john.alves@state.co.us
Northwest Region:
Sherman Hebein- (970)255-6186 or sherman.hebein@state.co.us
Southeast Region:
Doug Krieger- (719)227-5202 or doug.krieger@state.co.us
Northeast Region:
Ken Kehmeier- (970)291-4350 or ken.kehmeier@state.co.us
Statewide issues:
Dave Chadwick- (303)291-7174 or dave.chadwick@state.co.us
TIPS & TECHNIQUES
Get the selection of 8 flies,
here.
---
In the spring edition of High Country Angler Jay Zimmerman & Paul Prentiss co-authored an article on fly fishing for Carp...one of the five segments, Gaining Proficiency, is included...click here
---

Kayak Fly Fishing in Baja Mexico
Gary Bulla - Fly Fisher/Guide/Fly Tier
Gary Bulla is an expert on fly fishing salt water from Point Conception to the Sea of Cortez. He has landed over 130 species on the fly. Listen in to learn Gary's strategies and techniques for fly fishing from a kayak in Baja, Mexico. More about Gary Bulla...
Click Here to ask Gary Bulla any questions you have about fly fishing from a kayak in Baja, Mexico...
Tune in to the LIVE Show...
April 7 - 7:00 PM (MT)
---
Here is a new pike on the fly video from Colorado Angler Barry Reynolds....
click here
FLY TYING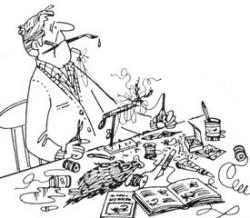 Prior to leaving for Long Island in the Bahamas I had breakfast with Mark Moller who had been to the island several weeks earlier. Before I could even ask "So, what was the hot fly?" he handed me a what I now call the "No Brainer".

Most bonefish flies are simple but this was ridiculous…..click here for more
---
A month ago Patrick Knackendoffel who works for FRA showed me a fly he's been working on which he calls the Red Don. If you like attractors as I do, this is a winner. He has an olive and PMD version
Red Don Nymph - Olive
Bead: Tungsten Montana Fly Lucent bead. 2.4mm, Christmas Red
Hook: Gamakatsu C12-B #14
Thread: Danville's 6/0 Tan
Tail: Olive Dyed Pheasant Tail tips
Abdomen:1/8" Tan Hareline scudback wrapped around Olive Hareline Midge Diamond Braid.
Thorax: Hareline Ice Dub, Golden Brown
Hackle: Partridge or alternative
Wingcase/Air Bubble: 1/8" Tan Hareline scudback under Clear UV Knot sense
Red Don Nymph - PMD
Abdomen: 1/8" Tan Hareline scudback wrapped around Orange Hareline Midge Diamond Braid.
Thorax: Hareline Hare's Ear Plus Dubbing
Wingcase/Air Bubble: 1/8" orange Hareline scudback under Clear UV Knot sense
---
What's a Fuzzle Bug?
Murry "Muz" Wilson is an Austrialian fly tier credited with the development of "fuzzling." With this technique the dubbing is not the body, but more like a fuzzy halo around the body. "The body is formed using chenille, lace, tubing, wool, wire or some other material, then the dubbing is applied to this and teased up after the body is formed. Using this method you can produce flies with a three-dimensional transparent effect.
"Not every dubbing produces the same effect. So far I have found the synthetics to be most suited to this technique, especially those that be-come transparent in the water, such as Pseudo Seal, BMS Blend and what has become known as Fuzzle Dub. Using a dark coloured chenille and a lighter coloured dubbing to make flies like Woolly Buggers, you get a two-toned effect that when wet will change during the retrieve. As the lighter coloured dubbing touches the darker chenille, the more dominant colour will take over. These subtle colour changes add a degree of life that I've not seen before.

Fuzzling can be applied to a wide variety of flies using a wide variety of materials. There are no rules yet and few patterns. The potential for spiky little trout flies is unlimited. What can be done with micro chenilles and new synthetic dubbings is yet to be fully explored: try dubbing to wire for sparse heavy little nymphs".....Muz Wilson The Fuss about Fussle in Fly Life on-line
1. A wet Dehydrated Minnow tied with white Fuzzle Dub over clear jelly cord over silver
tinsel - dry version pictured above.
2. A tadpole that looks real in the water, tail of fuzzle dubbing body (back half of hook) white or glow in the dark chenille, front half fuzzle dub dubbed then brushed back with velcro.
3. Fuzzuka is the easiest matuka style fly you will ever see. Step by step on blog
4. A baitfish with a chenille body fuzzled over.
More information can be seen on Muz Wilson's Blog site...click here.
Watch a how to video on creating a Fuzzle Sowbug...click here
---
Dave Bloom's Lead Eye Gotcha
The importance of a heavily weighted gotcha was reinforced during a recent trip to the Bahamas. The bonefish were holding on the edge of a channel in aout three feet of water. Bead chain flies simply could not get down fast enough. Over the course of two hours my partner and I landed 30 fish on led eye Gotchas.
Recipe:
Hook: Gamakatsu #2 SW
Thread: Shell Pink FW
Eyes: Med Lead Eye
Tail/Body: Pearl flat braid
Wing: Sand Craft Fur and Pearl Krystal Flash
Glue: 30 min Epoxy
This video was provided by the Weekly Fly.....check out their site by clicking on the logo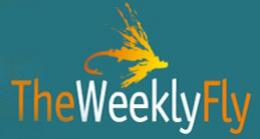 ---
PRO CORNER
My name is Wallace Westfeldt. When I made money for a living I was in high-tech. But now, fortunately, I spend most of my time on lakes and rivers helping folks catch fish. I started fly-fishing in Colorado in 1960. I have been guiding and instructing for four years....Wallace
This month in Rigs to Riches Wallace is discussing rigs for lake fishing. Ice out is approaching so you should find this info of particular value. You need to find out ou what a Pina Kolanda is!
Fly fishing guide and sculptor John (JB) Bruning (Confluence Arts, LLC) lives and works in Longmont, Colorado. JB loves to take clients to the pristine streams and lakes in northeastern Rocky Mountains.
Fly fishing is much more to me than just catching fish, it's the pursuit and the places where trout live that are most appealing to me...catching a trout is a bonus. I'll leave the technical writing to those who do it better and I'll tell stories about my fly fishing experiences and observations over the past 48 years...JB
This month JB tells us about the exploits of his fishing buddy, Shamu
Hayden Mellsop's guiding career stretches back over 20 years, from whitewater rafting in New Zealand in the mid 1980's, through fly fishing in both New Zealand and Colorado since 1990. "My priorities for a day on the river are: have fun, have fun, have more fun, and catch a few fish. I have a laid back, personable guiding style, and believe I have done my job when my clients leave the river with a smile on their face and hopefully a few new tips and techniques to ponder. Although real estate is primarily what keeps me busy, I am still available on a limited number of days to guide on the Arkansas from April through October."
This month we have Hayden's Fish+Beer = Love
---
GEAR Perspective...Paul Prentiss

I hate to admit, but when a new high performance rod comes to market I start thinking about how to justify a purchase. This was certainly the case with the introduction of the Winston Boron II-MX.

I have several of the Winston Boron II's and really like them - light strain, and smooth casting. When Winston announced its II-MX as its flagship product for stiff rod aficionados, I started the justification process. I read the hype…."MX stands for maximum, as in maximum power, distance, and fish fighting capabilities. The 4-, 5-, and 6-weights are slightly stiffer and faster than their Boron IIx counterparts; the 7- through 12-weights are true "cannons" that can handle sinking lines, big flies, and adverse wind conditions." Somehow I managed to hold the line for a year or so. When I went to the fly shows I purposely refused to cast one because I knew what the result might be.

I have all manner of saltwater rods and one of my Favorites is a 8-weight XTR Boron given to me as a retirement gift. Its a powerhouse and I love it. The rod is very stiff and ideal for handling heavy sinking lines and big flies. I've used it extensively over the last 8 years. My only complaint is that it's a three-piece. I couldn't make the case for replacing the XTR on the basis of four-piece convenience.

Everything was fine until a buddy decided to get one. My resolve melted away and I placed my order prior to leaving for the Bahamas.

I like over lining my rods and decided on a 9-weight RIO saltwater line which was perfect match for the rod. So, did the rod live up to its hype? Yes and then some! You can throw a tremendous cast in the face of a pretty vicious wind. I used a series of lines up to 350 grain sink tips and was greatly impressed with the rod. Is it worth its $700+ price tag? Absolutely, if performance is your thing.

There was one thing I didn't like..not a show-stopper but irritating. The reel seat was undersized for my Hatch reels (the foot on these are a little larger than most because of the way they are machined). It was not a problem with any of my other reels - Ross, Able, Lampson, etc.

I took four rods to the Bahamas, but every time I went out I reached for the MX. It's just such a sweet stick.
---
Guide, Fly Tying Instructor, Boulder Flycasters associate, CU Fly-fishing Club Advisor, and Ross Reels Pro Staff member are a few of Shawn Bratt's accomplishments. When he finds time to break away from work and school (Mechanical Engineer for Seagate Technology and Masters Candidate) and is not fishing or tying flies, he works diligently on a wide range of youth education programs offered through Trout Unlimited. Not too long ago he was captured on film by Megan Leigh Sweeney....see Shawn's Escape
THE DEEP END
"This secret place better be fantastic"
A good reason not to swim in a school of baitfish

ON DECK

FUTURE ISSUES OF THE FRA NEWS MAG

PROGRAMS & CLINICS
Classes and Trips

---

Intro to Fly Fishing

The purpose of this introductory course is to provide a beginner's most basic look at the world of fly fishing. This class is for the "never ever". The class is a one day, 4 hour class that begins with 2 hours of classroom instruction and 2 hours on the water.
Click Here to register and pay online.

Cost $80
Class times: Every Other Sunday 9am-1pm
Dates:March 21st, April 4th, April 18th.

Our favorite entomologist is back doing another class on April 24th, 2010. Patrick Tennyson of the Butterfly Pavilion is an expert with bug identification and the critters that inhabit the front range. This is a two part class that takes place on the water and in the classroom.
Learn more and sign-up here.
Cost: $95

---




Get ready for warm temperatures and big rooster fish from the beach. FRA is running a group trip to the East Cape of the Baja, three days of guided beach fishing for only $1800. This might just be some of the most fun fishing on the planet.
Find out more here.

FRA is offering a trip to the Grey Reef May 7th, 8th, & 9th. Anglers have the option to come up on Friday, stay the night, then fish walk wade all day Saturday, and then take a guided float trip on Sunday. We had a blast on our last trip and most boats had ~30-40 fish in the net at the end of the day, can you say too much fun?!?
Cost on the trip for one night lodging is $275 for a double occupancy room.
Find out more, here.