Add Front_Range_Anglers@mail.vresp.com to your
address book to ensure our emails reach your inbox.

News Magazine ~ August 2009
Dedicated to bringing people and fish together
Click here for a free subscription or to
read editions dating dack to 2003
Bill Leuchten, Owner ~ Rob Kolanda, Area Manager ~ Jon Spiegel, Area Manager ~ Jay Zimmerman, Area Manager ~ Russ Miller, Webmaster ~ Paul Prentiss, Customer Communications,
Larry Jurgens, Instruction Services ~ Tyler Bowman,
Patrick Knackendoffel Guide/Staff
IN THIS EDITION
FISH TALES ~ REEL NEWS ~ DOWNSTREAM~ TIPS & TECHNIQUES ~ FLY TYING ~ FORWARD CAST ~ THE DEEP END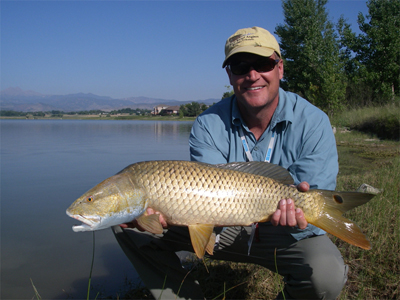 Hello all,
I got a couple hours of fishing off the coast of S. Carolina last week and marveled at the similarity of Redfishing and Carp fishing. Both fish look the same when they are foraging in the muddy water. They push water and grass around while their tails and fins break the surface thus creating your target. They are equally spooky and demand that the fly be placed near their lips. The stripping motion is the same and you actually could use the same fly if need be. They each have their own fly line dedicated to their pursuit. You use just as many expletives while fishing for them. Heck as you can see by the picture, they even look the same. You might want to click on the picture to confirm this. The one pictured however is a true Colorado Redfish.
I had couple shots at a couple Reds in S.C. with no luck. But when I returned I immediately took my frustrations to one of our many carp fisheries in CO and got my fix. I had dozens of shots, many frustrating refusals but landed some all before going to work in the morning. What could be better? August is a great month for these challenging fish so if you would like to try some carp fishing certainly let us know and we can get you started.
Hope to see you,
Bill
---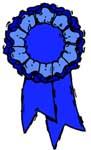 Win an FRA Carp fly selection!
Click here to take the quiz
Bill Vanderbilt of Ketchum, Idaho is holding one of the most aggressive fish you will ever encounter in the salt, a Giant Travally taken on his Seychelles adventure in 2008. We have a special presentation in this edition
about that trip which can be seen below. Bill & Annie Vanderbilt plus 6 friends fished an area that only 150 other anglers have ever visited....you have got to see this!
Roger Mattson landed this beautiful Canadian smallmouth bass in June of 2008 fishing a size-8 popper right on the bank. "She was nearly 22 inches and the largest smallmouth caught on a fly rod in Manitoba last year
Left and right are Greg Nelson and Dave Clark on a float trip through Gunnison Gorge in June of the year.

We received several pictures of Derek Maynard by way of Darren Bissett in Sydney, Australia. Derek has registered a 'Grand Slam' (a Permit, Golden Trevally and a Diamond Trevally) on a number of occasions. But Darren is doing pretty well also - 4 Grand Slams and 4 Permit on 4 consecutive casts!
KEEP ON SENDING US YOUR PHOTOS & STORIES
click here to submit a photo
Morten Agnar Hagen passed along a picture of Anita Cecilie Strindberg who landed this gorgeous 17-pound Salmon on West Ranga in Iceland. Morton tells us it has to be a record for this particular river.

Mick Berry is pictured above with an Alaskan Rainbow caught in early July of this year.
Tim Dameco and his dad, Don, traveled to Long Island in the Bahamas for his first saltwater fly fishing trip. Here's the first bonefish, caught on a size #4 tan Scampi. Do you remember your first Bonefish and how it took off like greased lightning? I'm sure Tim will never forget this particular fish.
Don't miss out on the daily information about Colorado Fishing close to home...click here
It appears that George Perry's 1932 record Largemouth Bass of 22 pounds, 4 ounces has been surpassed. Where did the potential new record come from? Monster bass hangouts like California, Texas or Florida? Afraid not. It came from Lake Biwa in Japan!

Manabu Kurita reportedly landed the 22 pounds, 5 ounces fish using a live bluegill. Apparently Kurita has some experience with huge large-mouth, reportedly landing an 18 1/2 pounder from the same lake on a swimbait last year.

Lake Biwa is Japan's largest lake at 259 square miles and has "crystal clear" water that reaches depths of more than 300 feet.

An ironic twist is the International Game Fish Association (IGFA) - the keeper of fishing records - will likely substantiate the catch as a tie. IGFA rules state that a catch must beat an established record by two ounces or it will be considered a tie.
Pro-Am Carp Slam ~ August 22, 2009


The South Platte Pro-Am Carp Slam sponsored by the Denver Chapter of Trout Unlimited teams up professional and amateur fly fishers to chase the elusive common carp on the waters of South Platte River in and around downtown Denver.

The tournament is challenging, and fun! It also benefits restoration efforts taking place on the South Platte in the upper two miles of the river directly below Chatfield Reservoir.
Great White on the Fly
Jeff Patterson, director of sales for Abel Automatics in Camarillo, California was fishing with Conway Bowman off La Jolla, California when he hooked and landed a Great White Shark estimated at some 150 pounds.
Patterson said he casted a foot-long artificial fly tied to imitate a bleeding bonito or mackerel to the shark as it made its initial run through the chum slick and at the boat. The great white's initial run was estimated at 275 yards. The fight lasted some 25 minutes.
Patterson used a Scott 15-weight rod and Abel Super 13 reel loaded with Rio Leviathan 550 grain line and 380 yards of 50-pound gel spun backing. It is believed to be the first Great White hooked off the California coast with a fly rod and single action fly reel.
Superfly is a fly fishing contest and fundraiser for the Gunnison Angling Society Chapter of Trout Unlimited. It is scheduled on the first weekend after Labor Day at the Almont Resort. Two person teams compete to see who can catch the most inches of trout in one day using the flies of their choice. Besides the fishing contest, the Saturday night banquet includes bucket raffles, silent auction and door prizes. The entrance fee is $500 per team. Each contestant gets a fishing shirt and cap and meals. The meals include a buffet breakfast, box lunch and a steak barbecue dinner.

The weekend offers a great time for all participants, and the proceeds raised benefit Trout Unlimited conservation work through the Gunnison Angling Society...click here for more information
DOWNSTREAM
What to look for in upcoming issues of the Front Range Anglers News Magazine
In September Front Range Anglers will be at the Retailer Show and will give you an update on what to expect in 2010

Panfish on the Fly
More Stonefly Patterns from JD Miller and others
"The drake hatch on the Pan last night was incredible! 60 fish in one hour all on dries! WOW!
" Message from Taylor Creek Anglers on 7/25/09
"
Drakes are being seen midday now along the Pan in addition to the evening hours. This is the best dry fly fishing of the entire year! GO!" 7/31/09

Freshwater Stipers on the Fly
Bill Butts - Fly Fisher/Guide/Fly Tier
Bill Butts has made temperate basses his specialty and freshwater stripers are one of his favorite targets. Learn Bill's secrets about finding, hooking up with and landing one of these freshwater trophies. More about Bill Butts...
Click here to go to Ask About Fly Fishing Internet Radio
New Twist on the Bimini Twist
FLY TYING
---
Galloup's 'GO TO' Pattern
This particular fly is one of Kelly Galloup's most popular patterns. It simply catches fish where ever you care to use it. Click here to learn more.
The video was produced by Reel Action Media,, the originators of The Weekly Fly
Hopper Time
on the Arkansas
The old standby, Daves Hopper, never fails to produce results
RECIPE
Hook - Mustad 9671, Dai Riki 280
Thread - 3/0 mono to match body color
Tail - red deer or elk hair and small loop of yellow yarn
Body - yellow wool yarn or better yet Polypropolene
Hackle - brown palmered over body and clipped
Underwing - yellow calftailor deerhair
Wing - turkey tail sprayed with urethane
Legs - dyed yellow grizzly hackle stems clipped and knotted or pheasant tail fibers knotted
Collar - matural light deer hair spun
Head - natural light deer hair spun and clipped
Click here to see Hayden Mellsop's current report on fishing hoppers on the Arkansas
SPECIAL FEATURE
Traveling to the Seychelles is an adventure many fly fishermen dream about but few have the opportunity to make it happen. Its not simply a question of cost but the travel
commitment is daunting - 5 to 6 days to reach the outer islands and the same to return.

The capitol is Victoria, on Mahe Island at the far north of the country. From the capitol it's 500 linear miles apart to the southern islands. The area itself is comprised of some 150,000 square miles with 80,000 inhabitants and 155 islands.

When Bill Marts from the Fly Shop in Redding California decided to put together a trip to Providence Atoll, eight anglers including Bill and Annie Vanderbilt of Ketchum, Idaho signed up to go. Marts had been thinking about this area since the early 1980's following a discussion with a fisheries biologist about it diversity and possibilities for fly fishing. The group was headed to a location where only 150 other fisherman had ever wet a line. Miles of flats, channels, reefs, pools, and lagoons had never been explored. He lined up Fly Castaway, a South African guiding business, with its mothership operation to host the trip.
This spring I went to a presentation that Bill Vandebilt gave to the Fly Fishing Club on Sanibel Island and was completely blown away by the pictures and tales surrounding this trip. It occurred to me that the Bill and Annie's adventure could be shared with our customers and friends. With his help and the approval of others involved in this trip you are going to get a taste of what it was like to chase Giant Trevally and other species (they caught some 24 varieties) in an ecological paradise few have seen.
Click here to begin the journey
"So who was it that said an 8-weight rod would be more than enough for Alligator Gar"
Sign in Nye Montana - population 200



Mike Kasics from Livingston, Montana is a "Sound Recordist" who spends his free time in the Yellowstone River. This video was apparently shot as part of a BBC production on the Yellowstone. Spend 10 minutes and watch his incredible story.